The Long March (长征系列运载火箭) is a rocket, or a family of rockets deployed by the People's Republic of China. It is named "Long March" to symbolize the Chinese communist history.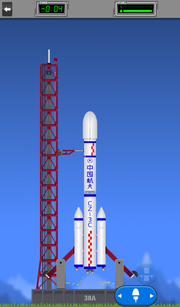 Here's how to assemble the rocket:
1. Long March 1st Stage
2. Long March 2nd Stage (No connectors needed)
3. Long March Solid Boosters
4. Small Fairing Long
You can add payloads at your own wish.
Ad blocker interference detected!
Wikia is a free-to-use site that makes money from advertising. We have a modified experience for viewers using ad blockers

Wikia is not accessible if you've made further modifications. Remove the custom ad blocker rule(s) and the page will load as expected.