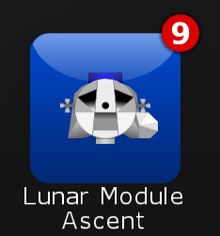 The Lunar Module Ascent vehicle is a part of the Lunar Module used in Mission 11 and Mission 16.
It is designed for use when ascending from a non atmospheric planet/moon. It has a separate main fuel tanks from the Descent Module, unlike the LK lander core.
During ascent, immediately after separation from the Descent Module, this module temporarily enters a pre-programmed "auto-pilot" routine, which places it into a stable orbit. The LK Lander Core has this same feature.
Trivia
When maneuvering by itself in the launch stage, it can gain tremendous speeds using the main engine. This is likely because this engine is needed to counteract the planet's/moon's gravity
This part can take pictures, and was used to do so in Mission 11